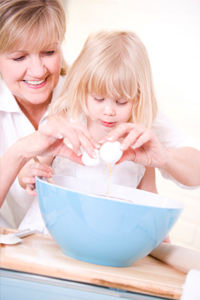 We Make The Healthy Cookies You'll Love.
Doodles Cookies is dedicated to providing its customers a healthy, organic and gluten-free cookie mix that doesn't sacrifice any flavor. We like to say our cookies are just like the ones mom used to make—without the fat, calories, and cholesterol! Our mission is to provide you with a healthy product that tastes better than anything else on the market.
Doodles Cookies was started in 2008 by Deborah Sievers, a home cook who's been making her delicious and healthy cookies for more than 15 years. While Deborah doesn't have any formal culinary training, her passion for baking and healthy, organic food inspired her to start Doodles Cookies. After winning two national awards for her cookies, Deborah realized that she might be on to something. Doodles Cookies sprung from the idea that her organic, low-fat mix would be perfect for other home bakers who were looking for healthier options that still taste great. Satisfying those customers with our healthy cookie mix is a goal that we strive to meet every day in the Doodles Cookies kitchen!
Doodles Cookies is based in Aurora, Illinois.